NEARLY TWO DECADES after it was canceled, we can finally play the lost Sonic the Hedgehog game. (After a fashion.)Thanks to the tireless efforts of some devoted (and talented!) superfans, you can now play one level from the Sega Saturn game Sonic X-Treme using a modern Windows PC. Because the game never got past early development, don't expect too much: The levels are haphazardly designed, the controls are bad, and the camera angle is frustrating. Of course, that could describe several finished Sonic games, so maybe this one will meet your expectations thoroughly.
via wired.com.
This tutorial will show you how to make a tiny wifi file-sharing beacon. It's a battery powered wifi access point for the contents of a micro SD card, and up to 5 people can simultaneously connect to it's network and download the files. It has many of the same uses as the much revered PirateBox, and costs about the same, but the main differences are this one uses different technology, it has a rechargeable battery, removable micro SD card, and at the size of about a tall box of tic-tacs, it's way smaller.
via n-o-d-e.net.
Laut Zulieferern plant Google ein neues Chromebook, bei dem das Display abgenommen und dann als Tablet weiter genutzt werden kann. Solche Hybrid-Systeme gibt es bereits öfter am Markt, sind aber in den meisten Fällen mit Windows 8.x ausgestattet – das die beiden Welten schon etwas näher zusamen gerückt hat. Bei Googles Lösung hingegen soll sich nicht Android oder Chrome OS dem anderen Formfaktor anpassen, sondern einfach beides parallel laufen. Nimmt man das Display des Chromebooks ab, wird aus diesem ein vollwertiges Android-Tablet.
via googlewatchblog.de.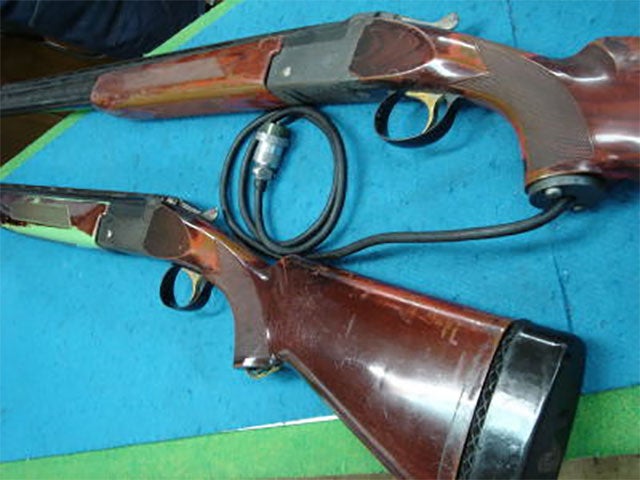 Nintendo's first arcade video games were, to be honest, pretty terrible. Way more interesting were the machines that came before those, starting with 1973?s Laser Clay Shooting System.

The first of seven amusement machines that would be released before 1978?s true video game cabinets, LCSS wasn't just a pioneer; it could also have spelled disaster for Nintendo's gaming ambitions were it not for the heroism of a man by the name of Genyo Takeda.

Takeda, who is now head of Nintendo's Integrated Research and Development team, first joined the company in 1970, straight out of college. Shortly afterwards, he was given the honour (though the significance may not have been known at the time) of being one of Nintendo's first ever game designers.
via kotaku.com.au.
Bei raspberry.tips gibts Antworten zu den am häufigsten gestellten Fragen bzgl. des neuen Modells.

"RaspberryPiModelBRev2.by.Philipp.Bohk" von Philipp Bohk – Eigenes Werk. Lizenziert unter CC BY-SA 3.0 über Wikimedia Commons.
In diesem Artikel habe ich oft gestellte Fragen und Informationen zum neuen Raspberry Pi 2 Modell B für euch zusammengestellt und werde natürlich die FAQ-Sektion stück für stück mit neuen Infos für euch befüllen.
Quelle: raspberry.tips
Der Ingenieurswesenstudent Alec Mormont der TU Delft hat im Rahmen seiner Doktorarbeit eine Drohne entwickelt, die im Falle eines Herzstillstandes einen Defibrillator zum Unglücksort befördert. Die Drohne soll mit ~100km/h unterwegs sein und so jeden Punkt in einem Umkreis von 2km in ca. einer Minute erreichen.
Krankenwagen bräuchten laut Mormont dagegen im Schnitt zehn Minuten. Das kann dann zu spät sein: Schon nach vier bis sechs Minuten könne es zum Hirnschaden oder gar zum Tod des Patienten kommen. "In der EU erleiden jedes Jahr etwa 800.000 Menschen einen Herzstillstand. Nur acht Prozent überleben", sagt Mormont. Mit seiner Ambulanz-Drohne will er die Zahl deshalb auf 80 Prozent erhöhen.

Das Gerät fliegt dazu autonom die GPS-Daten des Unfallorts an, die vom Telefon des Notrufers übermittelt werden. Über Funk stellt sie dann eine Audio- und Videoverbindung zum Krankenhaus her, damit Ärzte die Ersthelfer anleiten können. Währenddessen macht sich ein Krankenwagen auf den Weg, damit schnell auch professionelle Hilfe vor Ort ist.
Derzeit wird an einer Machbarkeitsstudie und einem Businessplan gearbeitet.
Quelle: heise.de
Bild: Alec Mormont / TU Delft
A lot changed in adapting the Image Comics ongoing graphic novel series for the small screen. From major character changes (Hi, Merle and Daryl!) to plot tweaks, we'll go through every difference between Season One of The Walking Dead, and the comics that inspired them – get ready to get informed!
Quelle: geeksaresexy.net
Laut Bloomberg ist Google X in Zusammenarbeit mit dem Pharmakonzern Biogen Idec an der Forschung bzgl. der Heilung bzw. neuer Medikationen im Bereich der Multiplen Sklerose beteiligt.
Biogen Idec ist Hersteller von Medikamenten, die die Folgen einer MS-Erkrankung eindämmen. Es hofft auf Rückschlüsse auf neue Behandlungsformen und Hinweise, für welche Patienten welches Medikament geeignet ist. Für Datenerfassung rund um die Uhr hat es bisher mit dem Fitbit-Armband experimentiert. Es arbeitet Bloomberg zufolge auch an einer iPad-App.
Bloomberg zitiert Google X mit der Aussage, es werde sich nicht zu einem Pharmaspezialisten entwickeln. Es bestehe aber großes Interesse, gerade an schwierigen medizinischen Forschungsprojekten teilzunehmen, die völlig neue Ansätze rechtfertigen.
Quelle: gizmodo.de & bloomberg.com.
Howdy Retro Gamers! This is my work in progress retro platformer I'm working on! You play as Ozma, a fox demon, in an adventure to liberate a plagued island! I never quite got over the 16 bit era so I'm pretty happy to be working on this!Check out the alpha demo here: http://www.thefoolishbrave.com/to-challenge-a-god/If you dig the game please check my out on Kickstarter :) https://www.kickstarter.com/projects/trisb/the-foolish-brave-to-challenge-a-godHappy retro gaming!
via reddit.com.
Over the past few years, we have covered a variety of stories about video games being played on devices that were never intended to play video games. From everything from pianos to ATM machines, from e-Readers to calculators, it seems that today, almost anything can modified in some shape or form to play some kind of a game. However one thing we haven't touched on as of yet is another piece of electronic equipment, called an oscilloscope. Recently, a Finnish software developer had some curiosity, and in the end, created a fully functional version of the id Software classic "Quake" that ran on the said hardware.
via retrogamenetwork.com.